TRIATHLON WA JUNIOR DEVELOPMENT
The purpose of the Triathlon WA Athlete Pathway Program is to provide an inclusive pathway to assist and encourage junior athletes (13-23 yo) to progress to higher levels of the sport and/or Triathlon Australia's Athlete Categorisation. The pathway aims to provide the following:
A positive and supportive environment at sessions and National Series races.
Skills sessions to enhance their training in their daily training environments.
Draft Legal race and relay sessions.
Educations on the Pillars of Performance in line with Triathlon Australia Pathway Strategy.
Application 1 – 13th June 2022 – 30th June 2022
Application 2 – November 2022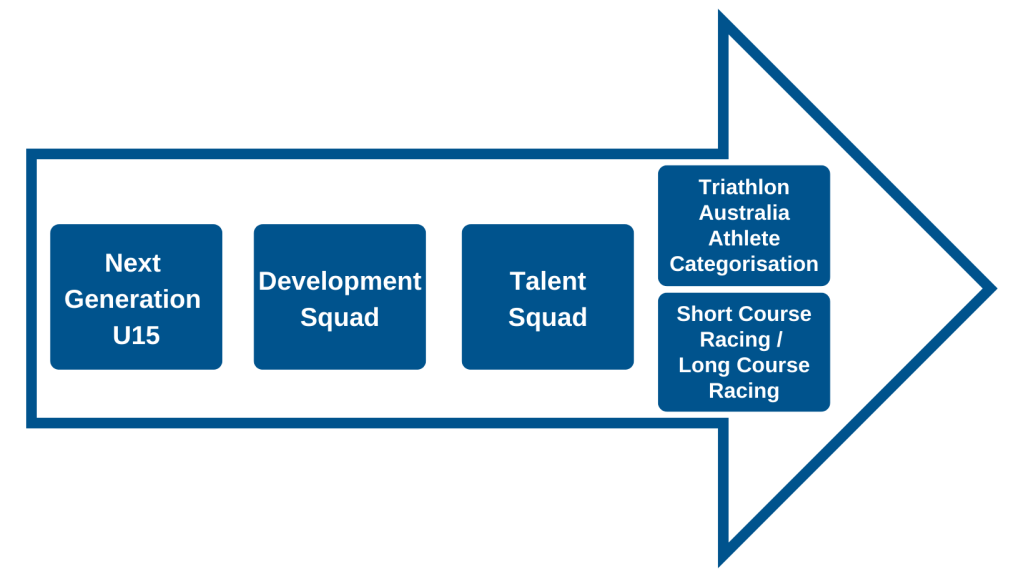 NEXT GENERATION
Athletes who display sport-specific skills and show interest in the sport of triathlon
DEVELOPMENT SQUAD
Building skills in 'draft legal' racing and demonstrating athletic potential (including showing demonstrated signs towards a performance mindset)
TALENT SQUAD
Experienced in draft-legal racing and significant results at national/local triathlon and single discipline competitions.
TRIATHLON AUSTRALIA ATHLETE CATEGORISATION
The purpose of athlete categorisation is to identify athletes who have the potential to achieve Olympic and Paralympic Podium Success within two Olympic and Paralympic Cycles. The level of categorisation reflects the timeframe around which an athlete is likely to achieve podium success based on patterns of progression of podium athletes within the sport.
This is the next step for our older Pathway Athletes.
HIERARCHY OF DISCRIMINATORS
The below Hierarchy of Discriminators forms the basis for our pathway strategy and what to develop.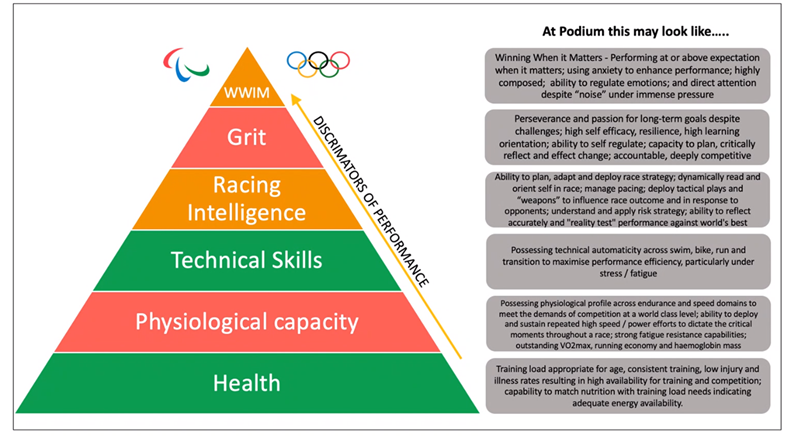 | Services | Athlete Pathway Race Days | Athlete Pathway Training Days | Education | Planning Support | Uniform Credits | Super Sprint Race Weekend | Aus Junior Relay Champs Invite |
| --- | --- | --- | --- | --- | --- | --- | --- |
| Talent Squad | | | | | | | |
| Development Squad | | | | | | | |
| Next Gen Squad | | | | | | | |
TRAINING SESSION CALENDAR
| Date | Location | Skills / Relay / Education | Time |
| --- | --- | --- | --- |
| Coming soon | | | |
CONTACT INFORMATION
For further enquiries or questions about the APP, please contact the Triathlon WA Pathways and Coaching Manager on 9443 9778 or programs@wa.triathlon.org.au